BLOOM- Omega Healthy Hair Oil
Sale price

£22.50

Regular price

£0.00
Get to know Bloom-Omega Healthy Hair Oil
A powerful afro hair oil blended with the best botanical oils to ensure your hair thrives.
Achieve longer, stronger strands with our nourishing afro hair oil Bloom. We've packed it to the brim with nutrient-dense, plant and seed oils that are rich with omegas and essential fatty acids. Bloom is designed to nourish and fortify your hair against breakage by eliminating dryness and improving the overall elasticity of your hair.
Our unique natural formula is also gentle and non-clogging, allowing your scalp to breathe while limiting build-up. The result is stronger, healthier afro hair that is less prone to damage from styling and manipulation.
Hair Benefits
Eliminates dryness
Nourishes the scalp and hair follicles
Gentle and non-clogging
Fortifies hair against breakage
Rich in omegas and essential fatty acids
A natural hair and scalp oil that supports healthy hair growth
Helps maintain healthy hair under wigs and weaves.
How to use it
Working with slightly damp hair. Smooth gently from roots to ends with your palms. Can be used daily or as needed to strengthen and feed nourishment into your hair.
Full ingredient list
Organic Thistle Oil (Carthamus tinctorius), Sweet Almond Oil (Prunus Dulcis), *Poppy Flower Seed Oil (Papaver Somniferum), *Camelina Seed Oil (Camelina Sativa), *Crambe Seed Oil (Crambe Abyssinica), Organic Coconut Oil (Cocos Nucifera), *Flaxseed Oil (Linum Usitatissmum), Vitamin E (Tocopherol), *Lavender Flower Oil (Lavandula Angustifolia), Lemongrass (Cymbopogon Schoenanthus), Rose Geranium (Pelargonium Graveolens)
[ *British Grown Ingredients ]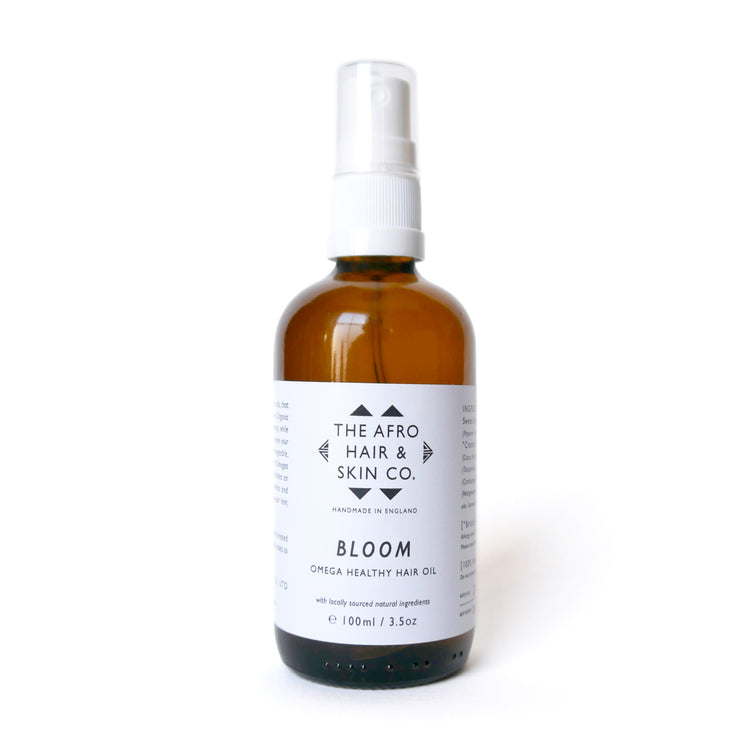 Amazing
It is so good for my hair and it smells amazing.
Nourishing hair oil
Really glad I bought this to complement the hair butter I use. BLOOM smells great and soaks straight into my hair!
Smells and feels amazing!!
Wonderful! Both my other half and I have used this and it smells incredible. Thank you!
Healthy hair
I love this product. It is easy to apply and I can see the difference it is making to my hair growth and all around healthiness of my hair. I would definitely recommend this product.
Still Waiting.....
Unfortunately I'm still waiting for my order to arrive. I responded to the standard 'your address was not accessible, order was returned, please confirm your address' email. And now I'm just waiting for an update, an arrival date or alternatively your payment will be returned in full email. I am not a happy bunny.
We think you'd love these too