NATIVE GLOW - Real Organic Shea Butter
Sale price

£15.95

Regular price
Get to know Native Glow
All over radiance with our Real Organic Shea Butter.
No Butter does it Better. Native Glow - Real Organic Shea Butter - the holy grail for hydrated and illuminated skin. This rich magical butter is ethically sourced from Ghana, where it undergoes a meticulous extraction process to retain its natural healing properties. Made of 100% pure organic shea butter, this luxurious moisturiser deeply penetrates your skin leaving no greasy residue. It nourishes and rejuvenates tired-looking skin with vitamins A, E, F while restoring elasticity bringing with it radiant and youthful looking skin. Say goodbye to dry patches and hello to a smooth glowing complexion with our Native Glow Real Organic Shea Butter!
Please note this is not a whipped butter. We've kept our Shea as close to its natural and organic form as possible. Shea Butter is a solid Butter that melts quickly into the skin.
Suitable for all skin types.
Produce of Ghana.
Size 100g
Benefits
NATIVE GLOW -  Real Organic Shea Butter is a natural moisturiser that deeply nourishes and hydrates the skin, leaving it soft and supple
This shea butter helps to soothe dry or irritated skin, reducing redness and inflammation for a healthy looking complexion
With its naturally high concentration of vitamins A and E, this organic shea butter promotes collagen production, improving the appearance of fine lines and wrinkles
Sustainably sourced from Ghanaian women cooperatives, supporting local communities while providing you with pure quality skincare.
How to use it
Our Real Organic Shea is best used while skin and hair are still slightly damp, for the best results.
Full ingredient list
Organic Shea Nut Butter - Vitellaria Paradoxa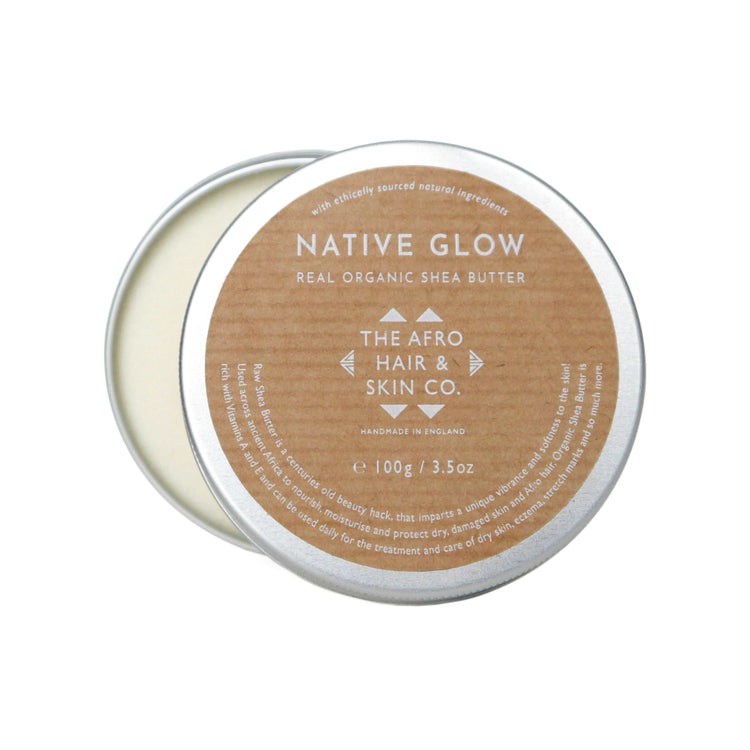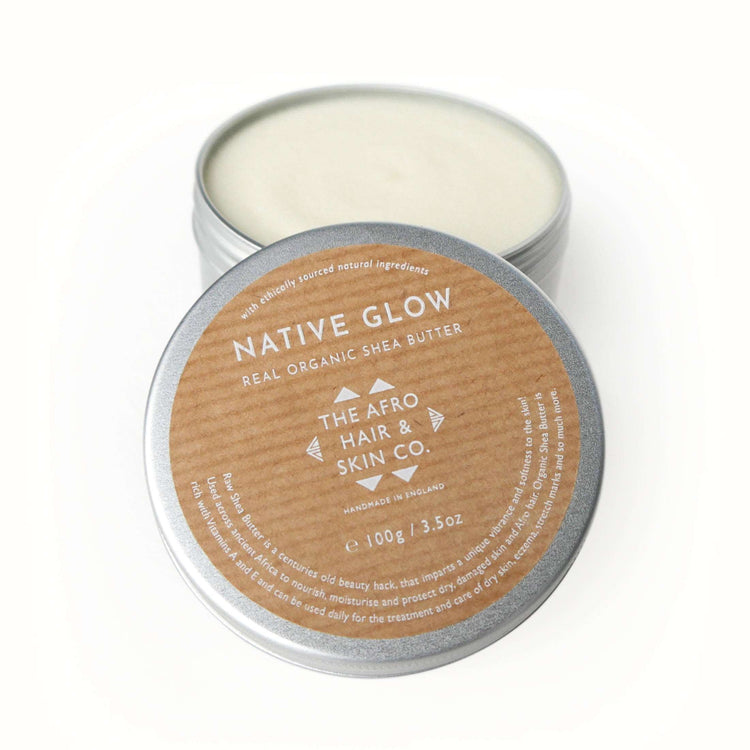 NATIVE GLOW - Real Organic Shea Butter
We think you'd love these too