FLOW - Perfectly Balanced Facial Oil
Sale price

£24.00

Regular price

£0.00
Get to know Flow
"Best Skincare For and By People of Colour" - VOGUE
Melanin is supposed to glow, Flow is our award winning facial oil made for darker skin tones.
Experience beautifully balanced and comfortable skin, everyday. Made using nutrient rich oils that help to repair, protect and balance your skin. Our unique blend of plant derived oils combines the nourishing, healing and protective properties of blackcurrant seed oil, frankincense oil and hazelnut oil, which pack a powerful punch when it comes to evening out your complexion, boosting circulation and promoting cell renewal. Ylang ylang flower is known for it's ability to help regulate the over production of oils (sebum) in the skin, helping to promote a more balanced glow while keeping the shine at bay. There's a reason why this oil is an award-winner, and clear customer favourite. Take a look through the reviews below to find out what our customers have been saying about Flow.
Skin Benefits
Suitable for all skin types
Antioxidant rich ingredients that protect from Free Radical damage.
Helps to restore the skins natural functions, improving skin harmony.
Soothes, smoothes and aids in reduction of inflammation
Supports the improved healing of scarring, reducing the impact of hyperpigmentation.
Carefully selected ingredients to support the health and vibrance of Black skin
How to use Flow
For the best results use one small pump of Flow Perfectly Balanced Facial Oil on clean damp skin. Flow will leave your skin feeling deeply nourished, well balanced and radiant.
Flow can be paired with one of our Floral mists for an additional boost of hydration.
Full ingredient list
Hazelnut Oil (Corylus Avellana),Blackcurrant Seed Oil (Ribes Nigrum),Crambe Seed Oil (Crambe Abyssinica),Poppy Flower Seed Oil (Papaver Somniferum),Vitamin E (Tocopherol),Ylangylang (Cananga Odorata),Frankincense Oil (Boswellia Carterii),Bergamot Fcf (Citrus Bergamia)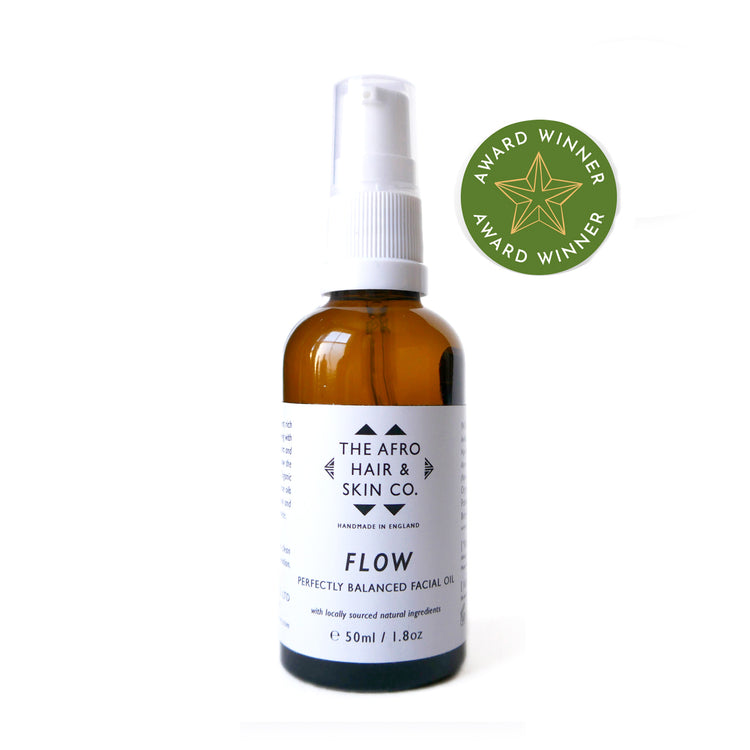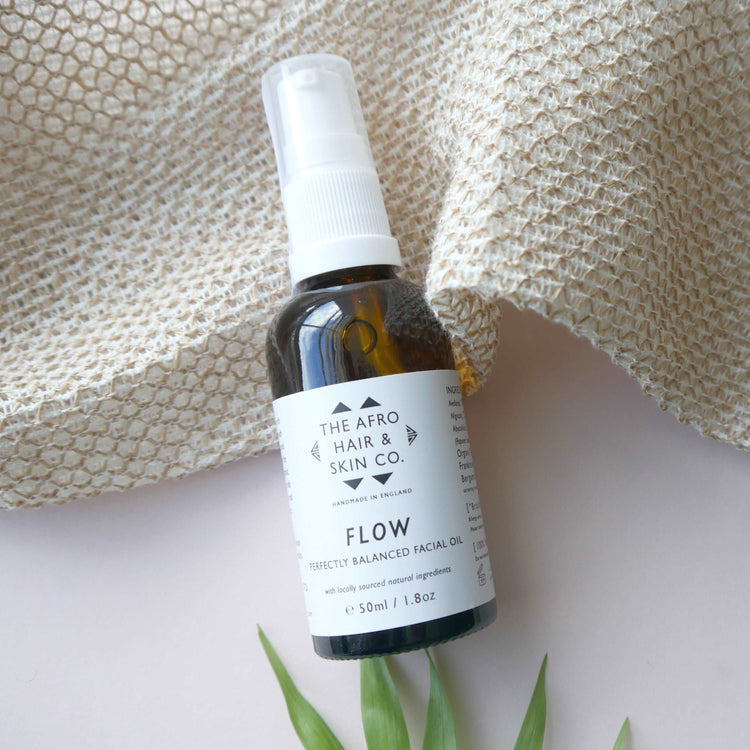 Happy Skin!
As always, this beautiful oil has brought my tired skin back to life. I also absolutely love the smell, which is so subtle but so good!
Light but effective
I have been using the 'FLOW' oil for a couple of years now. It is a vital part of my daily routine. It doesn't take much oil to give my face the moisture it needs.
I don't know
Don't know as still awaiting delivery from early December. However this appears to be royal mail rather than the sellers issue. I look forward to finally recieving it
A perfect 10
This product goes on easily and smoothly and makes my skin silky smooth. The body oil and the hair oil are just as good. I'm a believer and customer for life!
I only use this facial oil
It's the best face product I've used. I wouldn't use anything else. Plus the Rose Otto mist spray has been such a wonderful refreshing boost in this weather.
We think you'd love these too